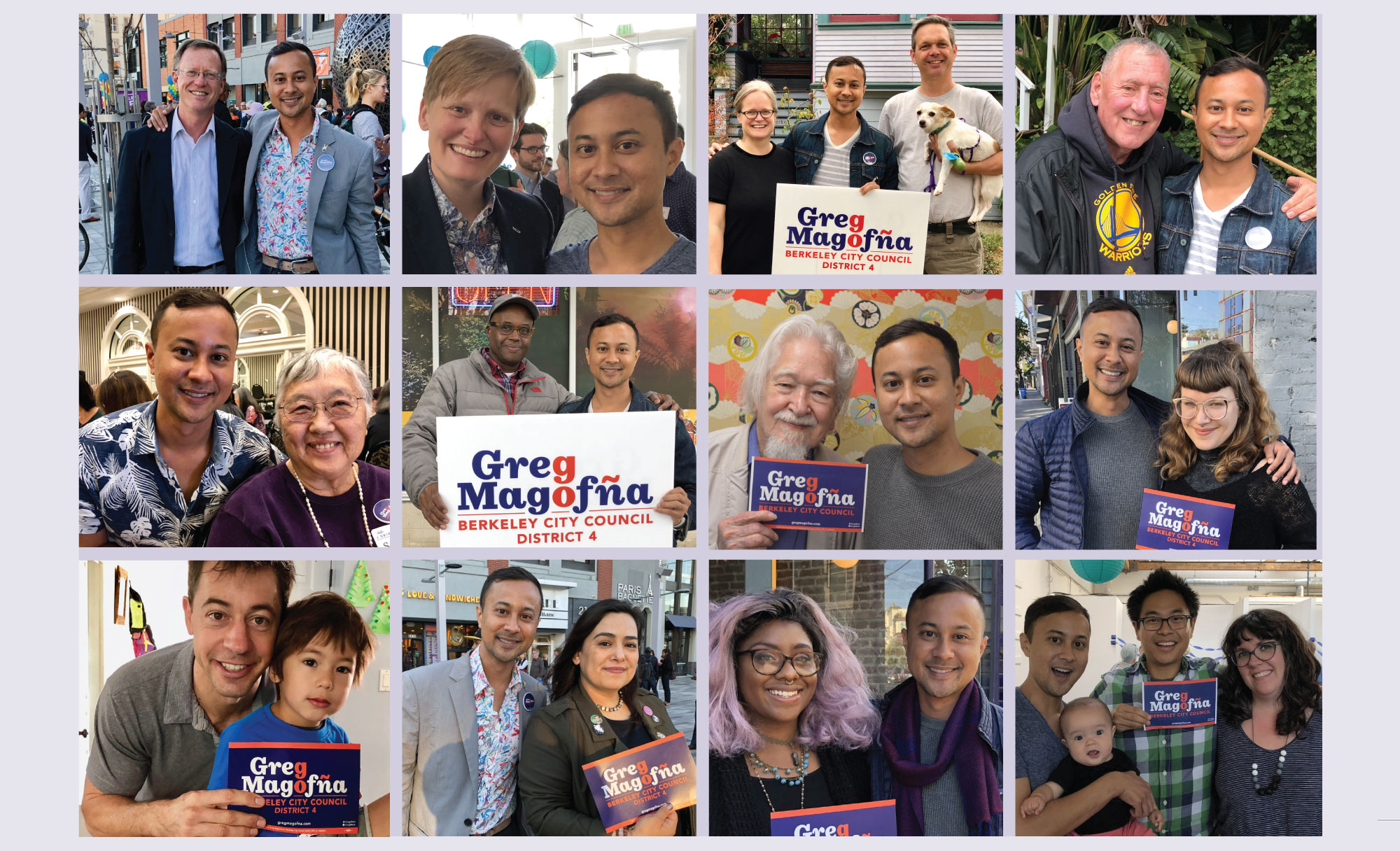 Community Endorsements
*Titles for identification purposes only, underlined = D4 resident
Greg will be a strong and positive advocate for social and economic justice issues on the Council.
Greg has the most experience in working cooperatively with City government to implement high-impact initiatives. He is deeply committed to a green, sustainable Berkeley.
Greg Magofna will provide the leadership and partnership with both City Council and city staff that is needed to forge good policy. He will stand up for the Downtown area and its constituents, particularly people struggling to afford Berkeley. District 4 deserves a representative who shows up, values evidence over ideology, and can help the City address our housing crisis.
Susan Wengraf, Berkeley City Councilmember

Darryl Moore, Berkeley City Councilmember (Retired)

Michael Caplan, Berkeley Economic Development Manager (Retired)
Jonathan Morris, UCB Graduate Assembly President
Nicole Drake, Rent Board Member (Retired)
Kathy Crandall, Berkeley Loan Administration Board Chair, Landmarks Preservation Commissioner
Elisa Batista, Children, Youth, and Recreation Commission Vice Chair
Darrell Owens, Housing Advisory Commissioner
Alfred Twu, Zero Waste Commissioner
Deborah Matthew, Zoning Adjustment Boardmember, Housing Commissioner, Planning Commissioner (Former)

Ben Gould, Community Environmental Advisory Commission Vice Chair (Retired)

Anna Avellar, Animal Care and Waterfront Commissioner (Retired)
Melissa Male, President of the Board of Directors, the Center for Independent Living (the CIL)

Niels Teunis, Chaplain

Angela Jernigan, Minister

Fran Moore, UC Davis Assistant Professor

Tara Kawata, Senior-Service Manager

Juli-An Julian, Shelter Plus Care Recipient

Jim Oki, Retired Small Business Owner
Chris Oki, Retired — Community Volunteer
Libby Lee-Egan, Neighborhood Organizer
Chris Lee-Egan, Neighborhood Organizer
Carolyn Delfino, High School Teacher

Mallory McDaniel, Student

Anna Present, SFSU

Mary Ann Furuichi, Retired

Anne Marxer

Chris Heine

Jeanne Quirit

Siciliana Trevino

Yeon Soo Kim

Chris Hyun

Joel Moalem

Beth Gerstein
Tomasso Sciortino
Milo Trauss
Ruth Ichinaga
Cole Yoshida
Margo Takemiya
Fred Takemiya
David Ying

Jill Shiraki

Wilbur Obata
Camille Obata
Nicole Drake
Liat Zavodivker
Karen Sugiyama
Aaron Eckhouse

Eoin O'Farrell

Christopher Brown

Joey Maxey

Wenpei Chou

Erica Varize

Dylan Verner-Crist

Greg earned his endorsement because of his deep experience with the city advancing strategies to tackle climate change, housing, and transportation.  We are impressed with his focus on promoting bicycle transit via bike safety strategies; his plan to deploy electric vehicle charging for existing buildings; and his emphasis on avoiding local displacement by pushing for new affordable housing in all parts of the city.

Magofña is pro-tenant and he understands that in the era of climate change, we desperately need more housing in urban areas near transit to help curb suburban sprawl.